San Juan del Sur, a charming and picturesque beach town on Nicaragua´s southwest coast. This town is really famous in Nicaragua because of its nearby beautiful beaches, lots of them amazing for surfers.
Time needed to visit San Juan del Sur: 4 to 5 days, so you can visit the beaches around with day trips and enjoy the nightlife that SJDS has to offer.
Budget: 40-60$ per day.
How to reach San Juan del Sur:
From Rivas, with the express bus, it leaves every half hour. The last is at 5:30 pm. The trip takes about 45 minutes and it cost 30C$.
You can find all the bus schedule for Nicaragua in the following page.
https://horariodebuses.com/EN/ni/index.php
San Juan del Sur and the nearby beaches:
All the beaches are reachable from SJDS town with public transport, they are located in two large blocks, the northern beaches of the town and the southern beach.
San Juan del Sur Beach, nice for swimming but you need to deal with the tides, that make the water go and come again, crowded by locals playing football and for beginner surfers.
Madera Beach, beach with strong waves all year around, very popular for surfers. There are numerous of surf schools, you will find a lot of restaurants and bars to drink and chill out in a top location directly on the beach. There is a daily shuttle that runs between SJDS town and Playa Maderas.
Marsella Beach, a beautiful white sandy beach, quiet and less known than Playa Marsella to reach just in 20 minutes by bus from SJDS. An option if you like to practice stand up paddle.
Hermosa Beach, less known beach from south SJDS, almost 2 km long where you can enjoy this spot with plenty of space. This beach is also frequented for local surfers. An entrance fee of 3$ per person is required and outside beverages are not allowed.
Remanso Beach, a great beach for beginner surfers. Is a small white sandy bay reachable just in 15 minutes from SJDS town.
Nightlife in San Juan del Sur
Sunday Funday, is a legendary pool party in Central America for backpacking travellers. Every Sunday a bus will shuttle the tourists from one pool bar to another. A wristband cost 30$, includes the entrance to the party and the transportation to the other party locations. Start at Pachamama Hostel, where you can buy your wristband in the morning, Naked Tiger and Arribas bar. This is certainly not a Nicaraguan cultural activity, but for those party-goers looking for a good time it´s definitely a bucket list item.
Iguana Bar, great location with nice views right on the beach. You can it breakfast, lunch, dinner and at the afternoon starts the music. Happy hour prices can´t be beaten. At night start the party upstairs with a mix of Spanish and English music. Great option if you are looking for some good time in SJDS.
LIT Bar, in the hearth of San Juan del Sur, if you want to go dancing in SJDS this is your place, it has open when the others are closed, with good Dj´s, nice atmosphere, definitely the place to go out in SJDS.
Tips where to sleep, where to eat and drink, what to see and do in San Juan del Sur.
Where to sleep:
El Pacifico Hotel, located within 3-minute walk to the beach, with simple rooms but big. Frequented for a lot of backpackers, they are often looking for volunteers.
HC Blau Mar Hostel&Hotel, with in a top location right across from the beach and just one street away from all bars, cafes and shops. Very friendly management, always willing to help you with information and trying to make your stay really comfortable. Rooms are very clean, with air conditioning and some of them equipped with fridge and kitchen.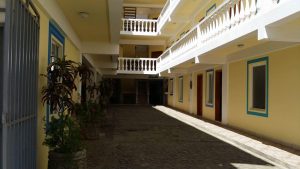 Playa Marsella Beachfront hotel, you will find bungalows within a top location in front of the Marsella beach.
https://www.marsellabeachfronthotel.com/accommodations.htm
Where to eat and drink:
The Beach House, the best spot in SJDS to watch the sunset with a cocktail. Great food, modern design with top location in beachfront and beach vibe.
Taco Stop, great food for a great price, frequented also from locals to take away the food, that sometimes there is even a queue waiting at the street says everything. Great spot to fill up.
What to see and do in San Juan del Sur:
Surfing
Does not matter if you are a beginner or already a professional surfer, in SJDS you will find your waves according to your level and you will enjoy good surfing in beautiful surroundings. One of the reasons why Nicaragua is becoming a top destination for surfers is because of the weather and the consistency of waves, making SJDS area surfable every day of the year.
Walk through the town and visit the Catholic Church of San Juan del Sur
You will find it in Parque Central with a playground in front of it.
 Visit the Christ of Mercy
A colossal statute of Jesus Christ located on the hill overlooking San Juan del Sur Beach is visible from all the town. It is a short hike up; it takes approximately 30 minutes from the town and the views are stunning, people usually walk up to the hill after a day on the beach to enjoy the sunset. You will need to pay an entrance fee, 20 C$ if you are from Nicaragua and 2$ if you are a foreign tourist. Visiting hours are from 8 am to 5 pm.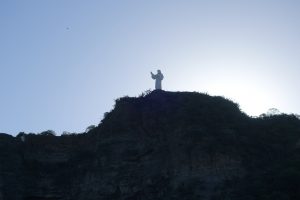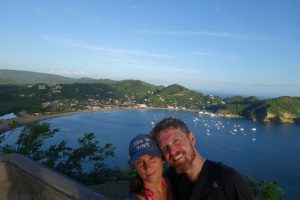 Enjoy the amazing sunset that San Juan del Sur offers you every day
We hope you like our San Juan del Sur Born Backpacker Guide, follow us there is more to come!
Don´t hesitate to leave any comments!
Born Backpacker, Gem&Seb.