Granada, the oldest colonial city in Nicaragua, a must visit city in Central America.
Time needed to visit Granada: 2 or 3 days with day trips, as Granada city centre is in couple of hours explored.
Budget: 30-50$ per day, day trips will make it more expensive.
How to reach Granada:
From Managua, if you have already booked your hostel in Granada it is better to ask for a shuttle, ask at your hostel for a pick up, it will cost about 15$. There is no bus directly from Managua Airport to Granada. A taxi from Managua Airport to the city will cost around 10$. Cheapest way is to take a local bus from Managua at the bus central station UCA, it will cost about 1$ and it takes about 1 hour and 20 minutes.
Tips where to sleep, where to eat and drink, what to see and do in Granada.
Hostels:
GM Granada Hostel, friendly atmosphere, really clean, reasonable prices and they have a pool. With dry hot weather in Granada you will appreciate to be able to refresh in a pool.
Hostal y Restaurante la Mexicana, quiet hostel, situated some walking minutes away from Central Park, clean rooms with shared bathroom and kitchen.
Where to eat and drink:
Try to avoid the street La Calzada, is overpriced and you will get bothered by kids trying to sell you some souvenirs or just asking for money, at the end you will be annoyed.  Granada is full of great restaurants with great service and affordable prices.
Los Bocaditos, a great local spot, has Nicaraguan and Mexican food and the price is right for the budget traveller.
Kiosko El Gordito, if you want to try some street food in Nicaragua you could go here. Located in Parque Central, so you may be also approached by vendors too. Try the Vigoron, is always recommended there from the locals.
El Garaje, very famous place in Granada for lunch. Fresh, healthy and tasty food, done with creativity. The place is small, just about 6 tables, clean and very cool decorated.  Food is served by the owners and remember they only serve lunch. Try it, you will not be disappointed.
The Garden Café, top location for breakfast or lunch, with healthy menu, salads and sandwiches. Try some smoothies they are really good. Is just about some blocks away from main square.
What to see in Granada:
Catedral de Granada, try to go up to the top of the Cathedral and enjoy the gorgeous views of the volcanos in the background. The price for go up is approx. 1$.
Avenida La Calzada, the heart of the city, also called "Las Ramblas de Granada", people who visited Barcelona will understand why. Lined with cafes, restaurants and shops, it changes from day to night, during the day is quite and at night it becomes very crowded.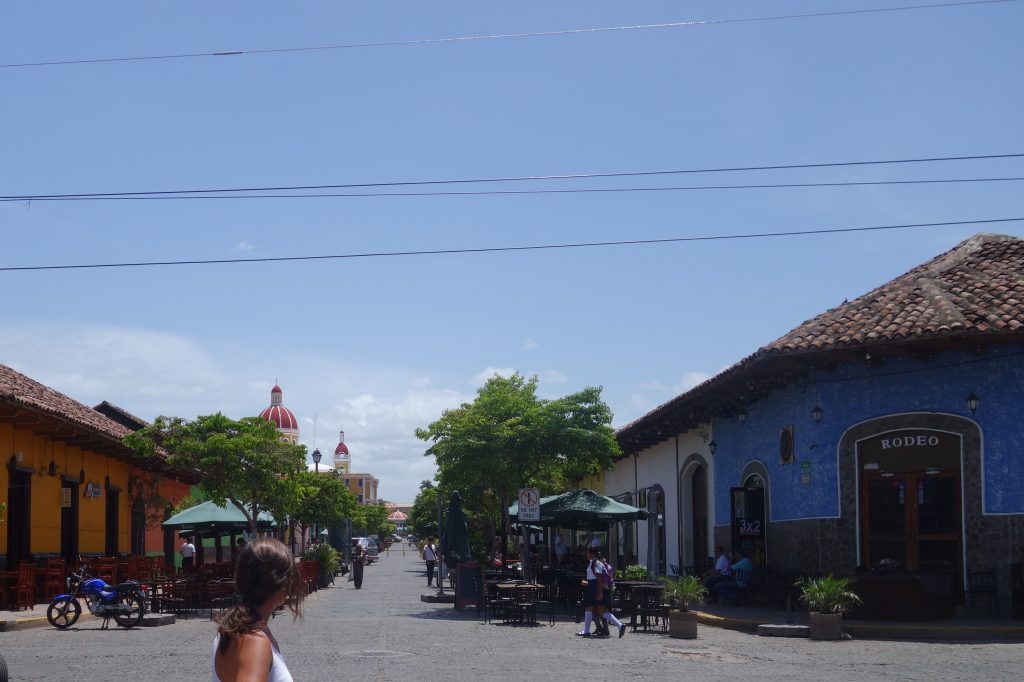 Parque Central, walk around, you will find locals eating at the local eateries, milling under the trees and trying to sell you some souvenirs. You will find a very friendly atmosphere.
What to do in Granada:
Las Isletas trip, a beautiful way to spend the day. This on one of the top attractions in Granada. It is nice to see all the islets that have been formed by volcano´s lava. You will also see that some indigenous people still live there. At the centre of Granada you will find plenty of people offering that tour, just keep asking till you find the best price.
Mombacho Volcano, one of the most famous volcanoes in Nicaragua, located just about 10 km away from Granada city center. Enjoy this hiking adventure and book a tour, they will pick you up from your hotel. There are several companies which offers tours, just ask until you find the best price and service.
Laguna de Apoyo, is one of the most pristine lagoons in Nicaragua, created when a volcano erupted hundreds of thousands of years ago. The colour of the water of the lagoon is turquoise blue. From Granada they offer shuttles for day trip to some of the hostels around the lagoon.
We were lucky, and we get the chance to see a local baseball game. We just heard that they were playing from a radio-car driving around the city centre.  It was a different way to spend the evening, great experience.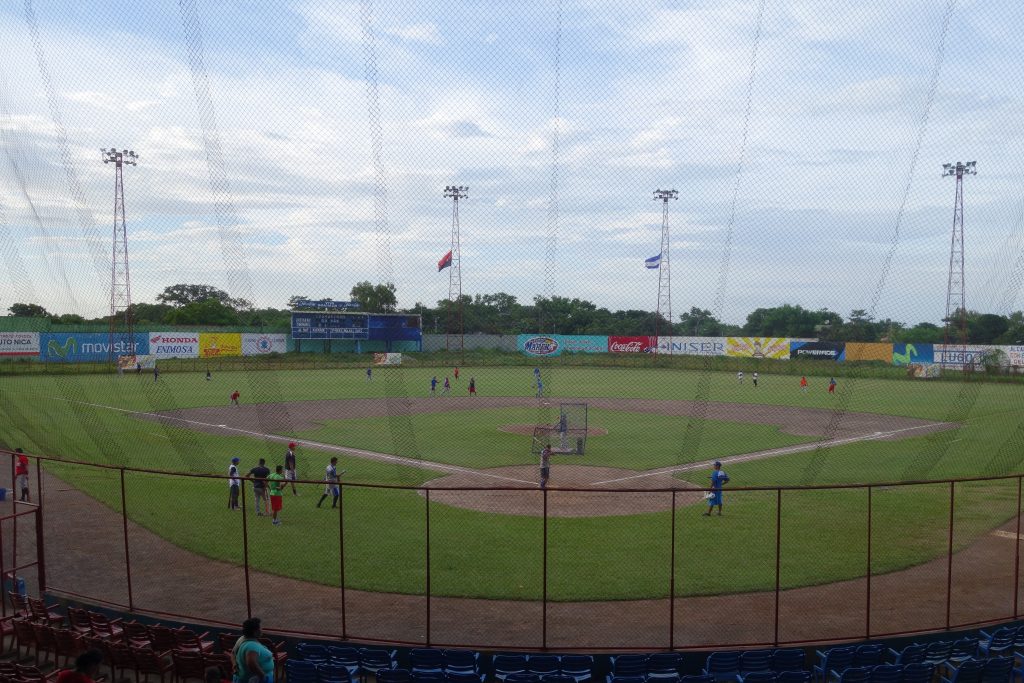 After spending a couple of days in Granada, we recommend you to continue exploring more from Nicaragua. Read about it in our next San Juan del Sur Born Backpacker Guide.
We hope you like our Granada Born Backpacker Guide, follow us there is more to come!
Don´t hesitate to leave any comments!
Born Backpacker, Gem&Seb.